Alumniverbund der Universität Siegen - The International Network
Regardless of whether you completed your studies some time ago, or are still working on your degree, everyone who has studied, taught, worked or conducted research at the University of Siegen should stay connected. Become a part of the international network of your university! Benefit from lively exchanges between theoretical and practical knowledge, make contacts and take advantage of the variety of services offered by us, the "Alumniverbund der Universität Siegen" - the international network of the University of Siegen, together with the alumni groups of the faculties. Your participation will also allow you to actively shape the network.
Are you not yet a member of the network? Click here to create your "myAlumni" profile in the Alumni Portal!
You already created your profile in the Alumni-Portal? Click here to login directly to the Alumni Portal with your profile!
---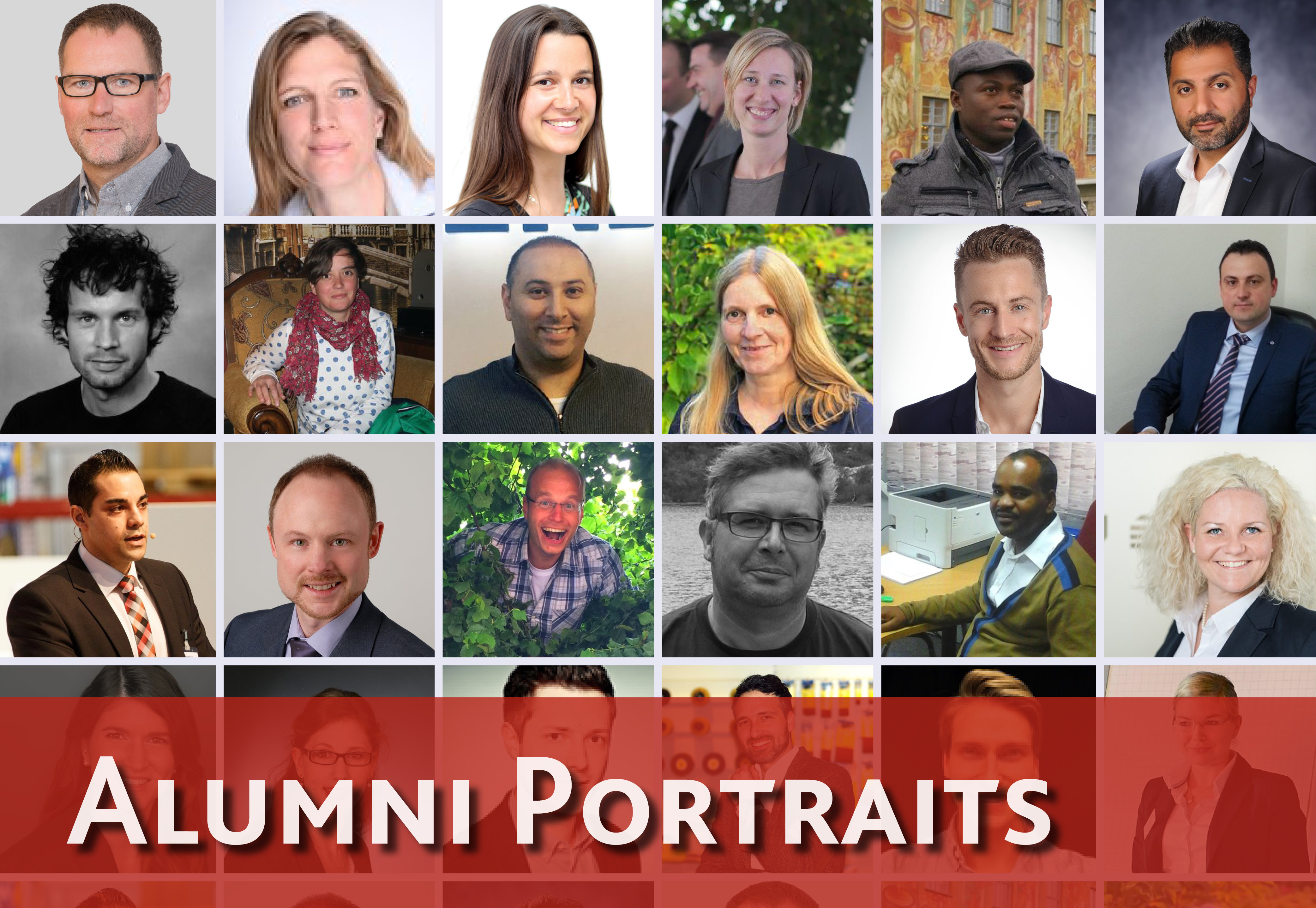 Alumni share experiences from their personal and professional development in these interviews. They may have all studied at the University of Siegen, but each one of them has their own story to share. Click here to read their portraits.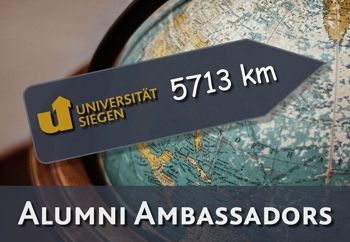 My Uni Siegen signpost: Our international alumni highlight their connections to the University of Siegen by holding a signpost with the distance to Siegen from some particularly meaningful places at their current location. Click here to read more about our ambassadors.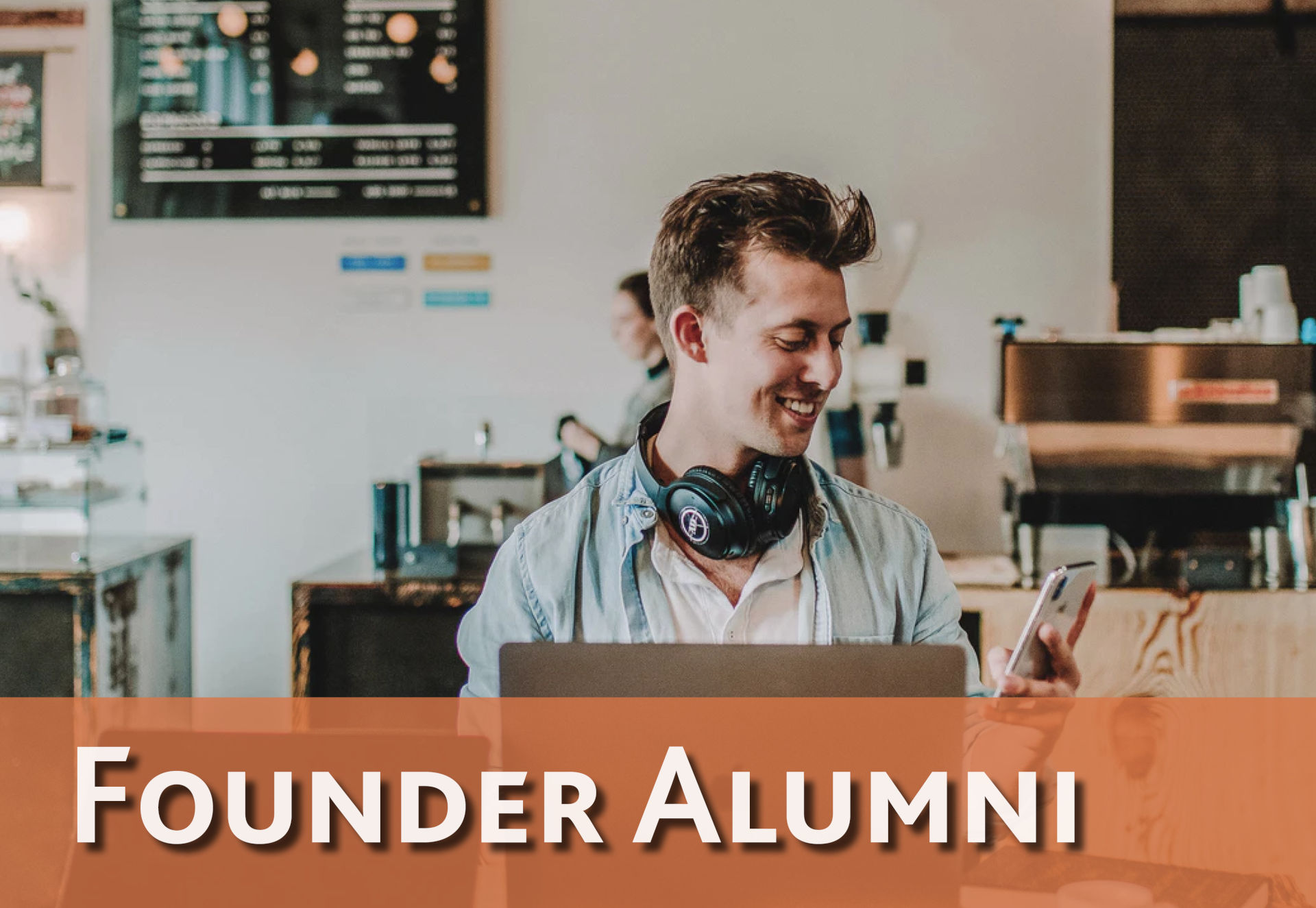 Some alumni of the University of Siegen decide to start their own businesses.The ideas behind each company are as unique as the founders themselves. These alumni talk about their exciting start-up experiences in various interviews. Click here to read more about our founder alumni.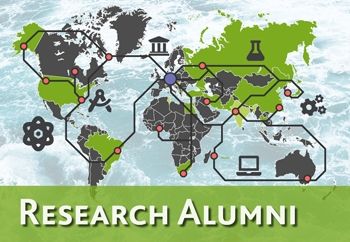 International scientists from our research network give an insight into their research collaboration with researchers from the University of Siegen. Click here here to see the research alumni gallery aswell.
Latest News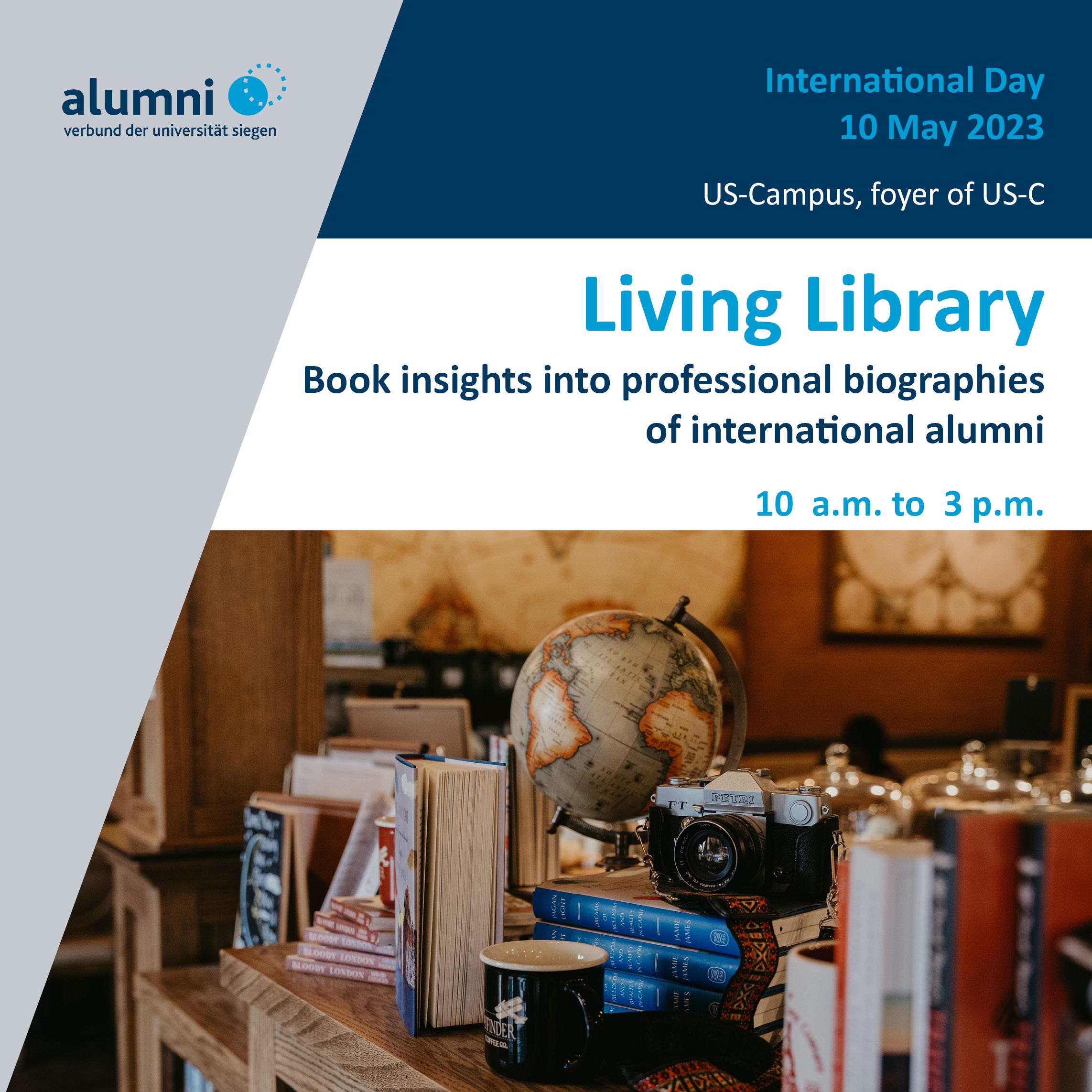 Living Library - Insights into biographies of international alumni
On 10.05.2023, our Living Library took place as part of the International Day. Students had the opportunity to virtually "burrow" and to get to know international alumni from all over the world in the "Living Library". They used this opportunity to immerse themselves in the biographies of a wide variety of alumni. The students curiously approached the booth set up for this purpose, which invited them to spend some time there with a certain library atmosphere and special books and be inspiered for their own future. Click here to read more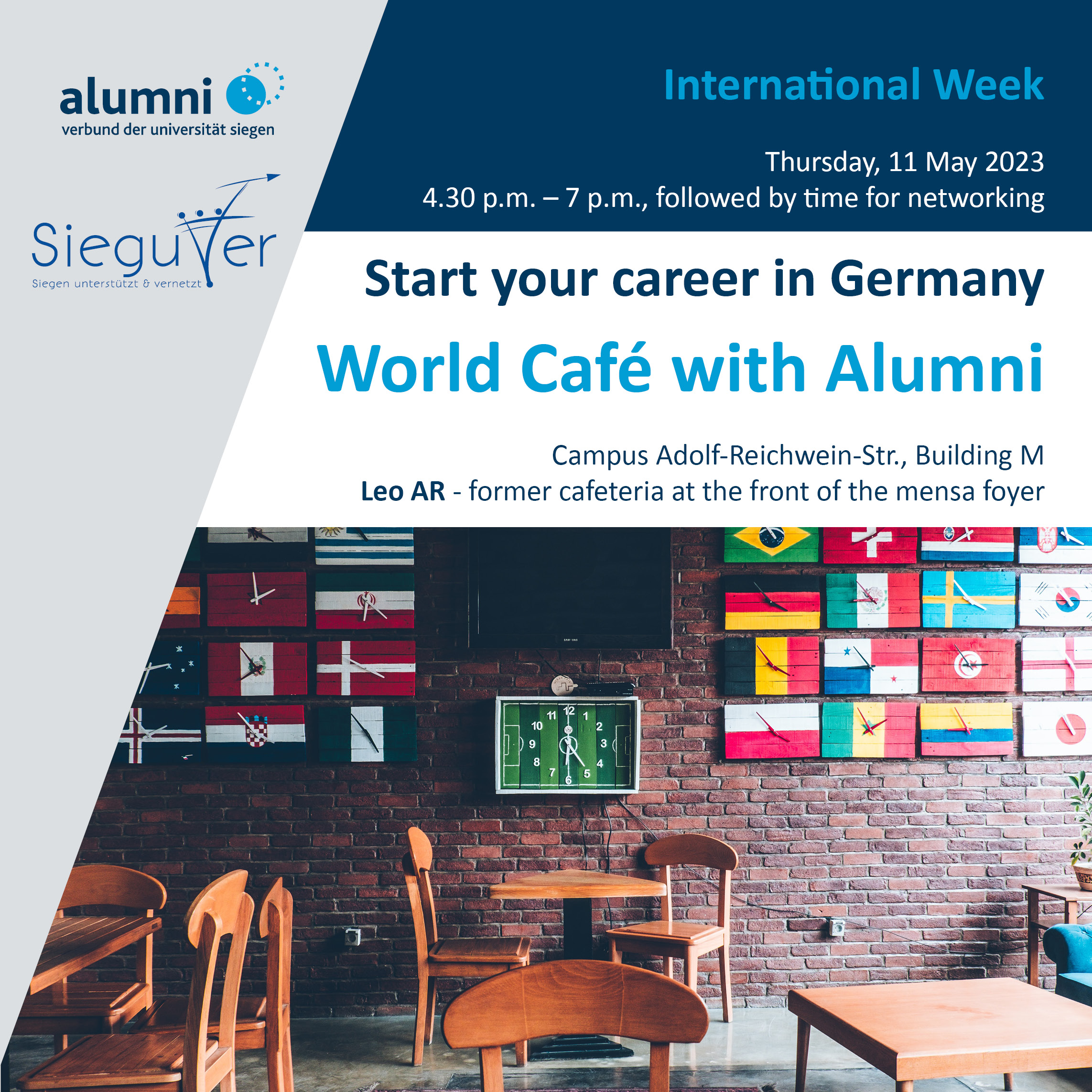 World Café with Alumni – Start your career in Germany
Am 11.05.2023 luden der Alumniverbund gemeinsam mit dem SieguVer Programm des International Office im Rahmen der diesjährigen International Week internationale Studierende zum World Café mit Alumni ein. Click here to read more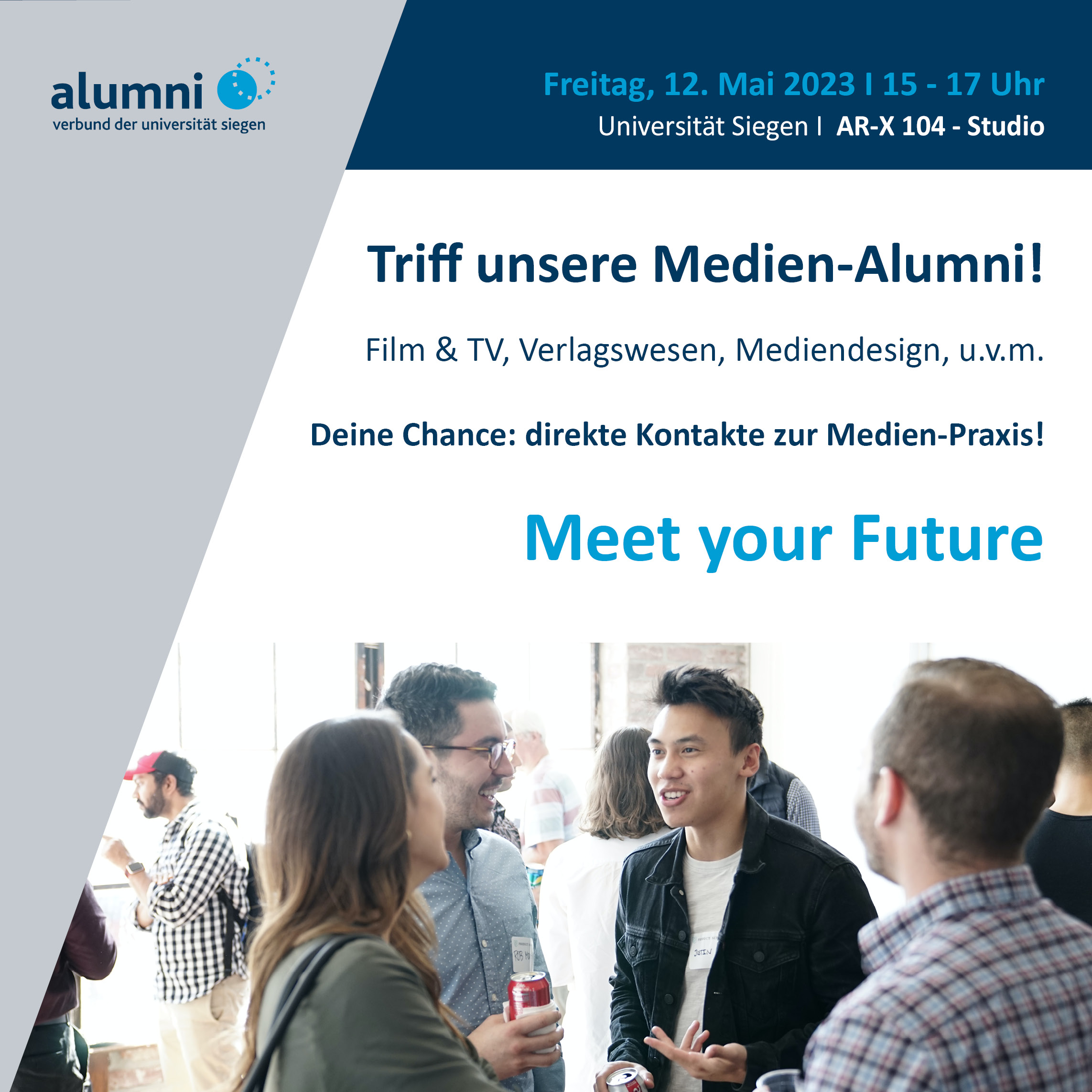 Mehr als nur "irgendwas mit Medien"
Meet your Future – so lautete der Aufruf an Studierende der medienwissenschaftlichen Studiengänge, am 12.05.2023 Alumni kennenzulernen, die selbst Ende der 90er Jahre an der Uni Siegen ihr Studium des damaligen Diplomstudiengangs Medienplanung, -Entwicklung und –Beratung absolviert hatten an diesem Tag sich für ein Wiedersehen nach mehr als 20 Jahren an ihrer alten Uni verabredet hatten. Cick here to read more.
Neues Gründer-Portrait online:
Diehl Relations
Maike Diehl hat mit ihrer Gründung ihr persönliches Interesse zum Beruf gemacht: Sie berät mit Ihrer Kommunikationsagentur Diehl Relations deutsche und israelische Unternehmen, die in den jeweils anderen Markt expandieren wollen. An der Uni Siegen hat sie 1998 in Germanistik, Politik- und Wirtschaftswissenschaften abgeschlossen. Auf eigene Initiative hat sie zuvor ein Jahr an der Hebrew University of Jerusalem Middle Eastern Studies studiert. Hier mehr dazu lesen.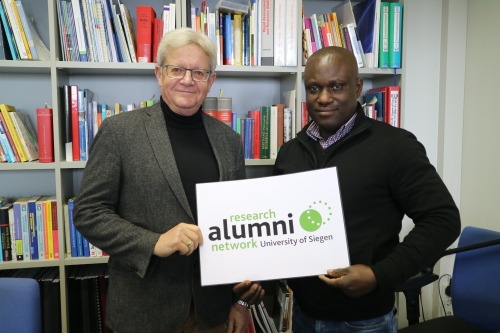 Neues Research Alumni Tandem online:
Prof. Dr. Johannes Schädler - Kwaku Larbi Anderson: Building Bridges: Empowering Rural Ghana with ICT Solutions

Prof. Schädler once became aware of Ghana as supervisor of a dissertation project on the education of persons with disabilities that focused on this West African country. Through this contact, more and more researchers approached Schädler, and a lasting cooperation developed. Kwaku Larbi Anderson was introduced to Prof. Dr. Johannes Schädler by Univ. Prof. Dr. Christoph Strünck, after expressing interest in pursuing Doctoral studies upon completion of a Master of Arts - M.A. 'Roads to Democracies' - an interdisciplinary and research-oriented master's program integrating history, political science, and sociology from the University of Siegen. Click here to read more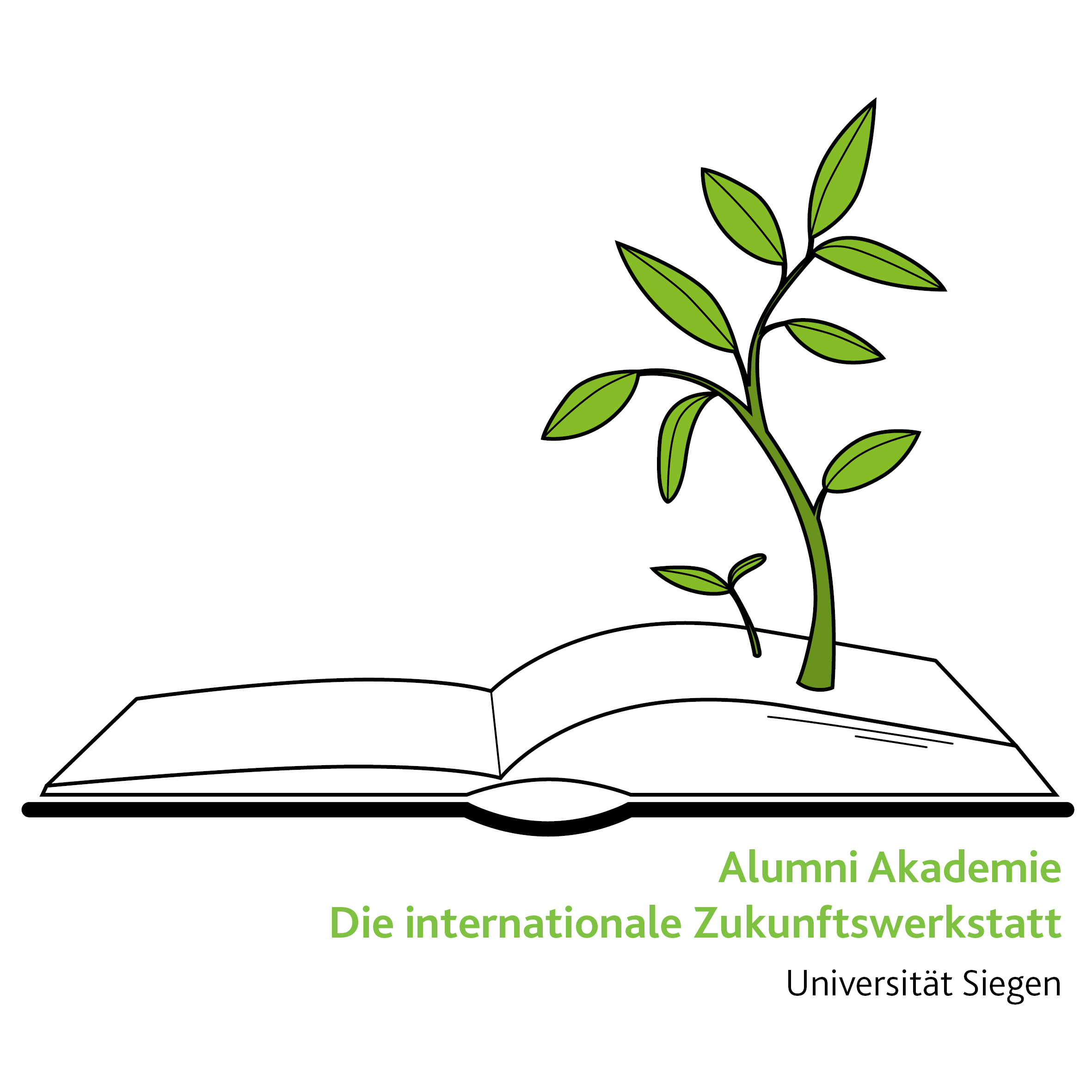 DAAD funding received for Alumni Academy 2023/24
Transformation in terms of sustainability - In the Future Laboratory "Urbanisation and Rural Development". the participants, international alumni and research alumni of the University of Siegen, are invited in an interdisciplinary grouping to enter into a discourse with international perspectives on this field of tension over a period of two years. Here, a link is established between international projects, which are identified and accompanied by the participants from their respective regional and subject contexts, and regional and university (Uni Siegen) projects. Click here to read more